As Expert Bicycle Accident Lawyers, We've Seen It All
The bicycle accident lawyer you choose makes a huge difference in the outcome of your case. Stuart Mann and Josh Maximon are passionate cyclists AND experienced litigators in Colorado – a winning combination. We understand the interaction between a bicycle and the surrounding traffic.
If you've been injured as a result of a bike accident in Colorado, you may be entitled to compensation for your damages. It's important to work with a team that understands the complexities involved in lawsuits involving bike wrecks.
Seasoned Colorado Bicycle Accident Attorneys
Both Josh and Stuart are avid, competitive cyclists. They understand the 'rules of the road' when it comes to bike safety and protecting oneself, as well as the rights and laws applicable to all bicyclists in Colorado. This knowledge and experience, combined with a client-focused approach, allows Stuart and Josh to be compassionate and aggressive while protecting and advocating for cyclists' rights.
Their passion for cycling and experience with the law have prepared them to best litigate bicycle accident cases in Colorado. From investigating liability and insurance coverage of people involved in the bike wreck to producing facts based on eyewitness testimony and/or GPS technology, Stuart and Josh dedicate themselves to obtaining the maximum compensation that their clients deserve.
Have You Been Injured in a Colorado Bicycle Accident?
We are here to help you pick up the pieces and to make sure your rights are protected.
Did you know that bicycles have the right to a 3-foot buffer while riding on the road? Under the law, a car must provide a 3-foot distance when passing a bicycle. Drivers and bikers both have rights and responsibilities to share the road. It is important that both treat each other with respect and courtesy so that we can all travel safely.
Every person riding a bicycle shall have all the rights and duties applicable to the driver of any other vehicle – we protect those rights in the most compassionate and aggressive manner possible.
At Mann & Maximon, our reputation, experience, and skill as trial attorneys are the keys to our success in obtaining maximum compensation for our clients. Our expertise includes investigating liability and insurance coverage, developing the facts, and pursuing litigation where appropriate.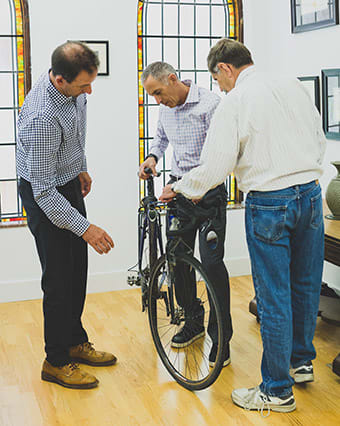 What to Do During a Bicycle Accident
In most bicycle accidents, a good first step is to obtain contact information from eyewitnesses and/or those involved in the bike wreck ASAP. This strategy helps lay the foundation for your case and increases the chances of obtaining proper compensation for injuries you may have incurred in the bike wreck.
If the bicycle accident left you so severely injured that you are unable to gather contact information yourself, we have the resources to represent your case just as effectively. We utilize the latest tools and technology to reconstruct the accident and help determine the best path forward.
Read more about what you can do to protect yourself after being involved in a bike wreck in Colorado.
Contact Us For a Free Initial Consultation
Contingent fee representation is available. In contingency cases, we are paid legal fees only when our clients are paid. There is no cost to you for an initial consultation or case review.
Call our Boulder office at 303-991-2233 or use our convenient online form.
What Our Clients
Are Saying
During the long months that followed my bicycling accident and resulting injuries -- my bike and I were run over by an SUV driver -- Josh was my closest and most trusted advisor. I can say without hesitation, his legal guidance and representation were consistently everything a client hopes for. But just as importantly, he was an exceptionally kind, compassionate, and knowledgeable partner throughout all that transpired. Really, I cannot say enough about Josh Maximon and his team. Good humans make good attorneys, and Josh is both. Mann & Maximon Client
Josh worked so hard for me throughout my whole case and fought for the settlement that I deserved, not what was offered by insurance. They handled every facet of my case and made the whole process easy for me. I'm incredibly appreciative of his work. Mann & Maximon Client
Josh has represented me on numerous occasions over the past 9 years. He is a fearless, tireless, and focused representative. I add integrity and fairness to the recipe and I feel I have the best legal representation in Colorado. Trust in your attorney is key to believing you are getting the best possible legal representation… Josh has all of my trust. Mann & Maximon Client